My Last Presidential Post – A Heartfelt Thank You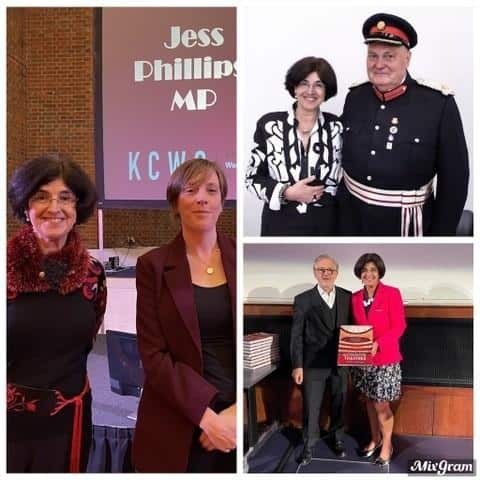 This is a difficult President's message to write. It is no surprise that this should be the case. Farewells are usually hard. And, for sure, it has been a challenge to lead a social organisation during social distancing working hard to see it reemerge. But what has always been easy is finding the motivation to serve. That was evident in every member, every activity leader, and every Board member who set examples that moved and guided me. Having great colleagues is a bad habit. It can be impossible to work again comfortably with others once the standard has been set high. So, I exit the Presidency of KCWC next month genuinely honoured to have had the privilege to get to know well our volunteers. Above all, I have been continually humbled and amazed by the strength, diversity, and talents of our membership of international women. They have always made this job rewarding even when, if I am honest, there were discouraging days.
Leadership roles, as I said last month, have specific challenges. And, despite my having spent my entire educational training and professional career around women, oestrogen can be a hard task master! Women are notorious for their impetuous natures, unfairly labelled "hysteria". For sure, some too are not shrinking violets, but capable of the occasional hurtful barb and biting commentary. I can say from experience, this is generally a bad rap. Yes, women are often driven by passions, but when we channel them to work productively together, we are unbeatable in our ability to get things done. Yes, we may be occasionally curt with one another, but this is generally born from our high standards leading us to push ourselves and each other to premium performances. I do not mean to sugar coat and suggest that women are always paragons who foster bliss! But I can honestly say I never once wrote a post, contributed a message to the newsletter, authored an eNews introduction, answered member emails, or welcomed members and guests from the podium without gratitude and humility for the privilege to do so.
Thank you all for having the faith in me to lead a club which we all hold dear. I invite you to offer the support you generously gave me to our new President, current Vice President Farzana Seddon. June 15th she will rise to the role and along with her talented Board see out 2022 and welcome our 40th anniversary year in 2023. They will have different challenges than I to meet. Fortunately, KCWC never loses its propensity to lead all other women's organisations in London, and its surroundings, by our tenacity, penchant for excellence, and a sense of humour about ourselves. That is where the real pitfalls lie for women – taking themselves too seriously. I hope I cede KCWC to a new generation who will resist the temptation to be self-important, always remembering their role is not for self-promotion. It is instead about KCWC members with club By-Laws as the compass guiding them in that service.
All that remains, then, is for me to quote another childhood friend – Peter Pan.
Never say goodbye because goodbye means going away and going away means forgetting." – J.M. Barrie
I am happy now to exit stage right after two fulfilling years I never wish to forget. I remain in London excited to at last have the time to enjoy the many activities our ALs create, and our Board oversees. Above all, I never, ever want to forget a day of being President of KCWC (both times in fact). It was a post I relished not least because of my admiration for all of you who put me there.
Thank you so very much. Here's to the future!
Mary Narvell
You might also be interested in...
If you are not a member, it's quick and easy to join us. Just complete our online membership registration form to enjoy a range of benefits.