Through Rose Coloured Glasses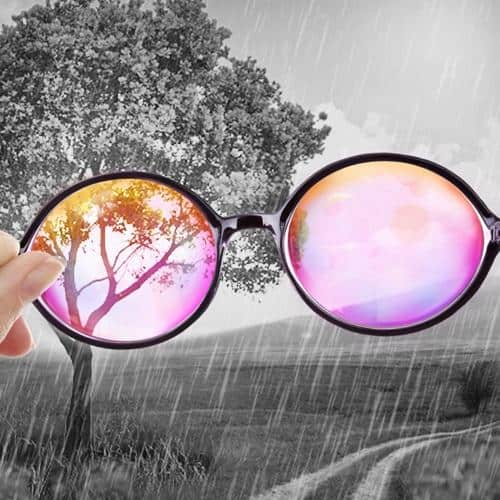 When last I wrote my President's web message, I was looking forward with not much heightened anticipation to the retrieval of goods out of longtime storage. Even as I yearned to be reunited with treasured possessions of old, I feared the reignition of poignant memories. They proved evocative even if the vessels emoting them were sadly damaged, several beyond any repair or recognition. Perhaps this was the message American southern author Thomas Wolfe meant in writing "You Can't Go Home Again". It is difficult to resurrect the past and ever experience it as you remember it was. Some memories are best left intact in the crucible of rose coloured glasses in which reflective conscience blessedly bathes them.
So too, I hope, we can all put the difficulties of Covid behind us as we venture to emerge from the pandemic pandemonium with happy memories of successes intact. Certainly, KCWC enjoyed a banner year amongst London's international women's organisations proving our spirit and volunteerism were indomitable and a match to any barrier. We held Speaker Series General Meetings, activities were quickly transitioned to Zoom formats, and even coffee get togethers were reinvented. And we managed to connect on a personal level with a glorious June finale memorialized by Shanette Savage's wonderful photographs posted on our website. I send her my heartfelt thanks for her efforts and echo them to all the activity leaders and Board members who worked so hard last season on behalf of our membership.
Now we begin a new season fresh from summer travels or relaxing reveries at home. I am happy to report our Speaker Series General Meeting programmes are set again this year through June. This herculean effort of organisation is our gift to our membership to help you all diary your year ahead and not hesitate a millisecond in renewing your KCWC membership when the time comes! There is much to which you can always look forward both in headline speakers and timely topics. These include award winning photographer Peter Dazeley in October chronicling the visual and historical glories of London theatrical palaces. We welcome former Sky anchor and continuing media trailblazer Linda Duberly in November. In December a holiday lunch at the swish RAF Club in Piccadilly where we will feature food historian Marc Meltonville talking about the origins of the British Christmas feast even as we feast on our own. In January Jess Phillips MP is our guest to discuss her campaign for women's rights while introducing members to a new Westminster venue convenient to the Houses of Parliament. 2022 will also find us hosting royal commentator Robert Hardman in honour of the Platinum jubilee, London house historian Melanie Backe-Hansen, Vice Lord-Lieutenant of London Colonel Jane Davis, Honourary Nurse to HM the Queen from 2005-09. Finally we welcome back Anne Sebba fresh from her appearance at the Victoria and Albert Museum where she will discuss her latest literary research. I hope you will patronize these meetings as a chance not only to hear impressive speakers but to meet and greet your friends after a long hiatus apart. Your support is nothing, too, if not a ringing endorsement for the hard work we all do on behalf of our members. I can assure you there are days where our volunteers feel like jugglers trying to schedule venues, speakers, and costs all with the enjoyment and edification of you in mind. It is a labour of love and I am proud (if I confess a bit tired) leading the efforts.
I will miss our welcome back luncheon scheduled for September 9 at the Mayfair Townhouse as duty to accompany another long suffering KCWC supporter – my dear husband, John – is paramount. We will be trying to navigate Scottish byways in our 1931 RR Phantom II Continental christened Hyacinth Celeste for her white and blue colour scheme. Even though we find there are moments euphemistically labelled "failures to proceed" otherwise known as breakdowns,  no such catastrophe will befall our KCWC agenda for 2021-22. We are prepped, oiled, and ready to go. Fire up the engines, put on those rose coloured goggles and hit the road. Nothing can beat KCWC when we are firing on all cylinders. I look forward to seeing you all return to our events relaxed, rejuvenated and ready to contribute. As my mother would have said, Andiamo a fare un giro – Let's go for a ride.
Mary Narvell / President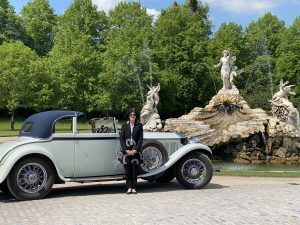 PS – this photo is of yours truly with Hyacinth in front of the Fountain of Love at Cliveden. No accident as I am always thinking of KCWC. Look for the wonderful October 4 event scheduled at Cliveden on our website!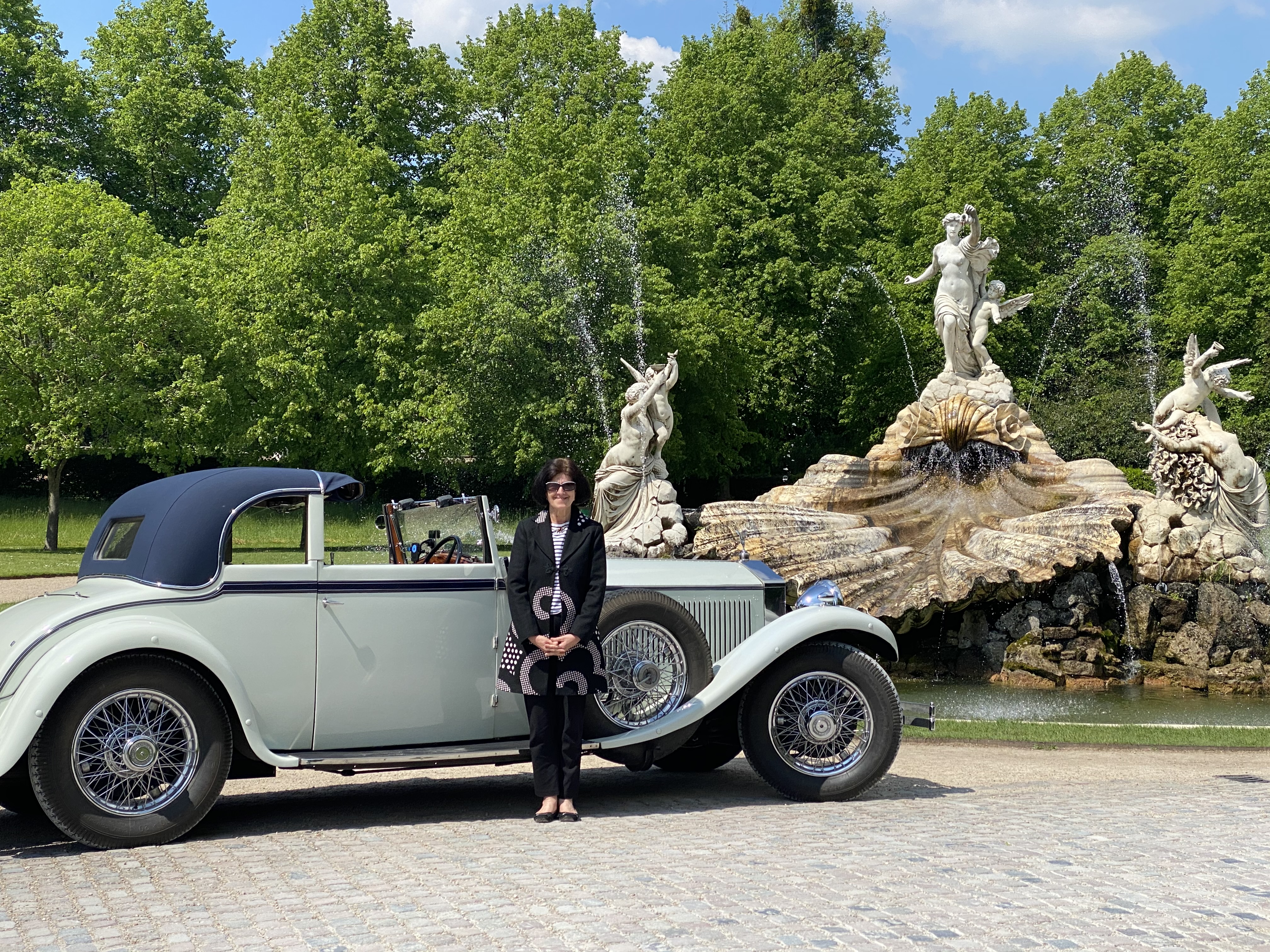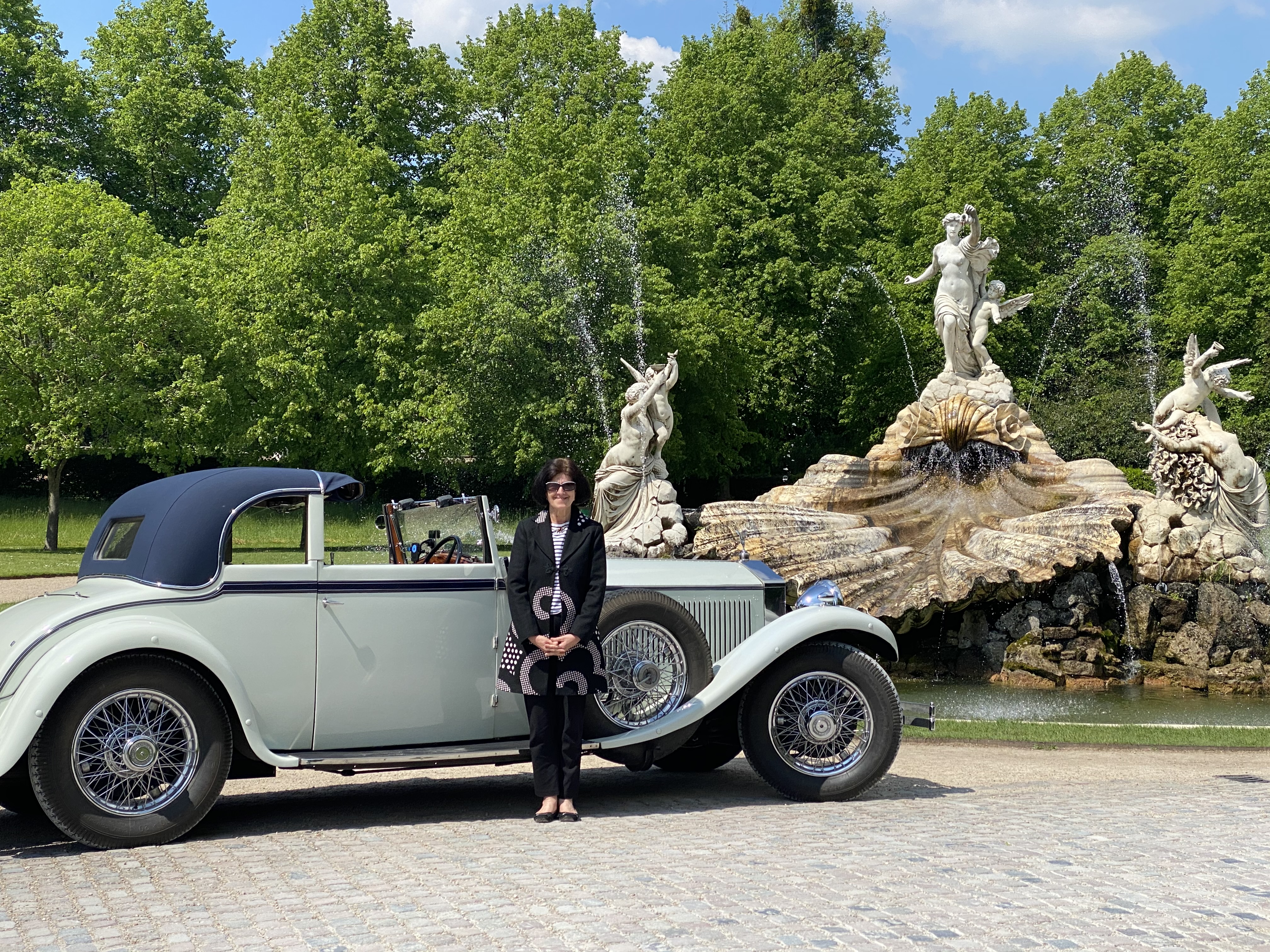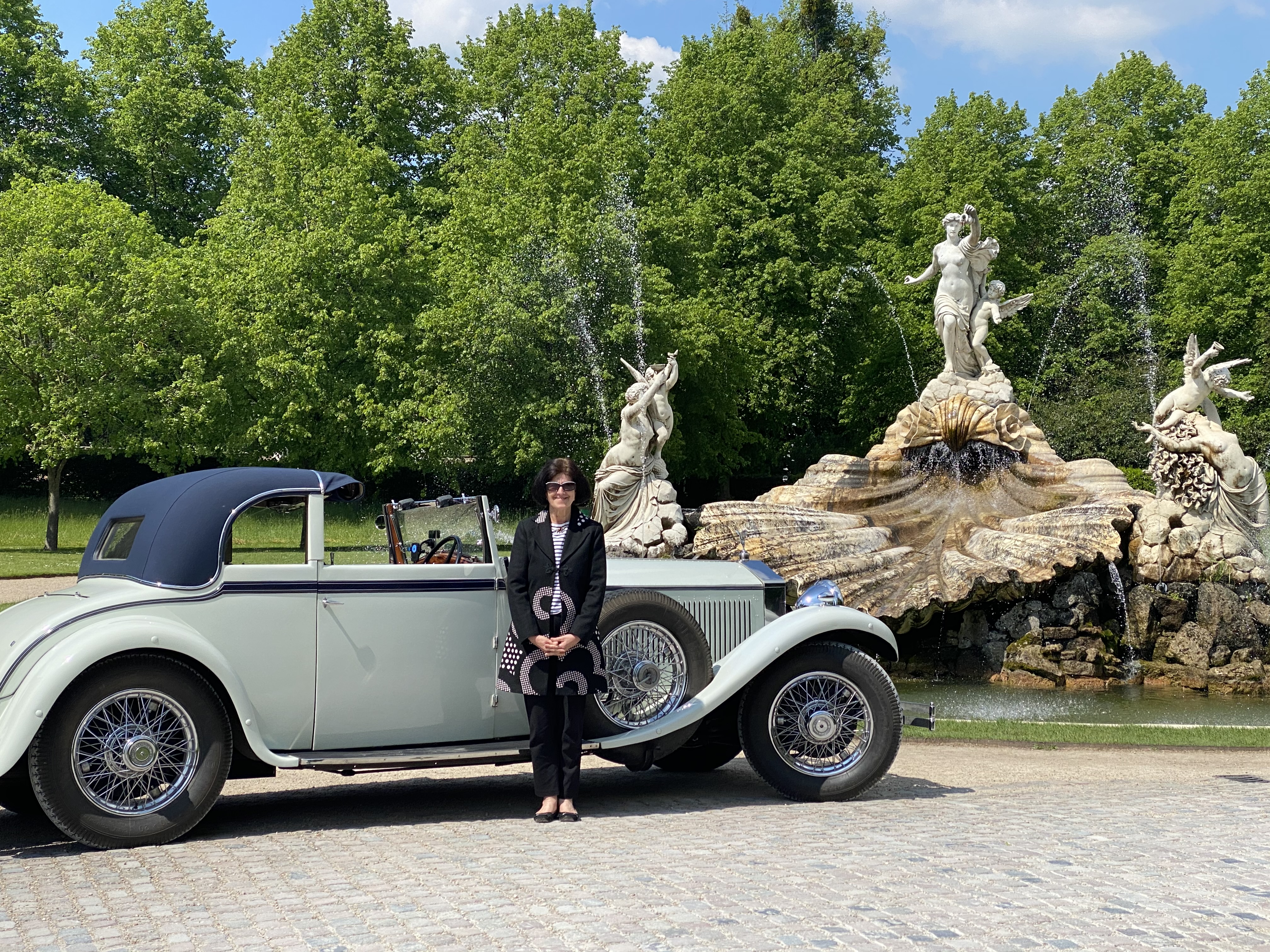 You might also be interested in...
If you are not a member, it's quick and easy to join us. Just complete our online membership registration form to enjoy a range of benefits.